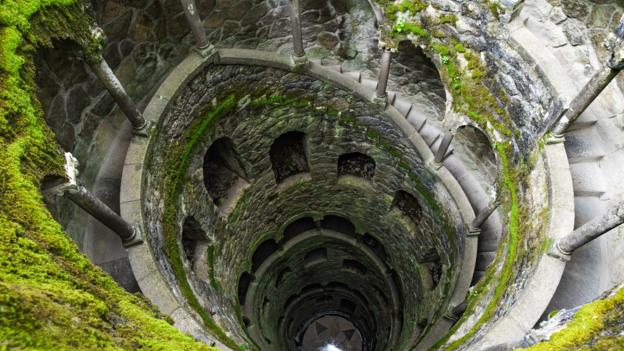 Near the manicured gardens and hilltop villas of Sintra, Portugal, lies the fairytale estate of Quinta da Regaleira. Protected within a Unesco World Heritage landscape, Quinta da Regaleira is a postcard-perfect mix of Gothic, Egyptian, Moorish and Renaissance architecture. But it's what lies beneath the palace's gardens that truly sets the estate's design apart. A pair of wells, called the Initiation Wells, spiral down deep within the earth, like inverted towers. The wells were never used to collect water. Instead, they were part of a mysterious initiation ritual within the Knights of Templar tradition.
Quinta da Regaleira has had many owners over the decades, but it was António Augusto Carvalho Monteiro, one of the wealthiest men in Portugal at the turn of the 20th Century, who made the estate what it is today.
Carvalho Monteiro had a deep interest in – and was quite possibly an initiate of – the Knights Templar, a Catholic military order with roots dating to the early 12th Century. While the group is believed to have disbanded 700 years ago, certain groups, like the Freemasons, revived the medieval group's rituals and traditions centuries later. With architect and set designer Luigi Manini, Carvalho Monteiro created a property brimming with pagan and Christian symbolism between 1904 and 1910. The property's wells, located in the expansive gardens that Manini also designed, served as the starting point in Templar candidate initiation ceremonies.